Date: Sunday September 25, 2011
Posted in: reviews
Way back in June (June!) the very sweet Megan at Tiny Prints contacted me to see if they could hook me up with business cards. My stash was completely out and BlogHer was coming up and so I wrote back and said, "OF COURSE!!" Or, 'That would be pleasing to me. What might I do in return?" I've used Tiny Prints for years (Christmas cards, mostly) and looked forward to checking out their business cards.
I placed my order, got email notification that it had been shipped and then it fell off of my radar. There was beach time and work and that trip to Cannon Beach, etc. The week before I left for San Diego, I realized that I had yet to receive my cards. I checked the tracking on the package and the last stop had been in Vancouver…three weeks earlier. I contacted FedEx and after two days of searching, they told me that the package was lost.
I contacted Megan and asked her if there was any way to get a box of cards sent to San Diego. She dealt with it immediately and was so sweet about it and told me that they were scheduled to arrive on the Friday, but I may get them on the Thursday. Hooray!
I checked my tracking online/the hotel front desk on Thursday and…nothing. Same thing on Friday. And then on Saturday, the status said that it was on the truck in San Diego! At 6:30 a.m.! I went down to the UPS store mid-morning to see if FedEx had dropped off my package. He informed me that they had done their delivery for the say and weren't expected to come back and that there was no package for me. He looked up my tracking number for me and pointed out that FedEx had scheduled my package to be delivered on Monday. They day after I flew home.
(FedEx isn't my favorite.)
Megan at Tiny Prints asked if she could still send me some cards and they arrived within the week. Third time's the charm!
They'll come in handy a couple of weeks from now when I'm attending/speaking at Blissdom Canada in Toronto. If I see you there and you want one, hit me up. I kind of love them.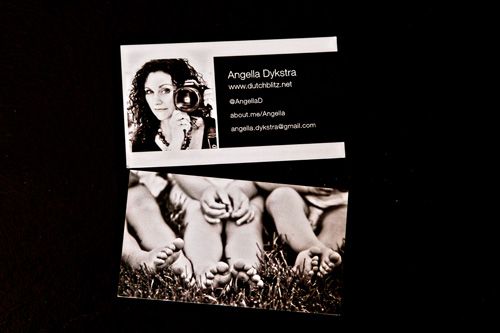 They were super easy to make and if you're in need of some cards, here's the link. They also have great Christmas cards, Holiday cards, and Invitations.
Thanks to Tiny Prints for getting me these cards despite FedEx's attempt to keep them from me.