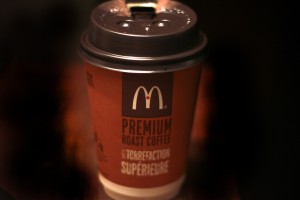 A few weeks ago, I ventured to Toronto to (speak at, and) attend Blissdom Canada in Toronto. I'm still glowing a little from the time spent with a few good friends, staying up until the wee hours of the morning and talking. Hotel lobby chairs are the new therapist chairs. Or something.
The conference itself was pretty amazing and the topics covered were more than relevant to a writer/blogger here in Canada. The opening keynote was by Scott Stratten of UnMarketing and one of the stories he told was how he used to always get his coffee at a chain that rhymes with Jim Morton's and their coffee was never consistent. Ever. EVER. Then, one day, he had no cash. And they didn't take debit (HOW IS THAT POSSIBLE?). So, he switched to McDonald's coffee and it was GOOD. And CONSISTENT. And they take DEBIT CARDS.
I drive by a McDonald's six days a week (five on my way to work, one on my way to ballet) and the thought of getting good coffee, consistently, appealed to me.
Then, days later, McDonald's themselves contacted me to see if I wanted to tell people that they were offering free (FREE) coffee from November 15th to 28th. Free! Coffee! Also, it's free!
Which is all fine and good but I could simply tell you this via Twitter and Facebook.
Except!
They also have given me a $50 McDonald's gift card to give out to my readers. FIFTY BONES, friends. It's only open to the Canadians but we get left out of 98% of online giveaways, so don't hold it against us.
All you need to do is leave a comment to enter. Why don't you tell me how you take your coffee? I take mine with half and half and Splenda. Mmm…
(Don't forget – even if you don't win this gift card, you only need to go to your local McDonald's to cash in on the free coffee. That's what I did yesterday in order to grab a coffee and take that there above photo. Have I mentioned that it's FREE?)
What are you waiting for? I have a fifty dollar (FIFTY DOLLAR) McDonald's gift card to give whomever of you that Random.org chooses. (You don't even have to buy coffee with it. Just sayin'…)
Ready? Set? GO.
(I'll leave comments open until Friday, November 19th at…I'm not sure, exactly. But I'll close them when I do the draw.)
***Edited to say that I left this open until Saturday because I've come down with the flu. Yay, winter! /sarcasm
The winner is…
Mrs. Wilson! I'll be emailing you for your address. Thanks for playing, everyone!
When I was approached to see if I was interested in receiving a (Customized!) Flip MinoHD I had to sit back and ponder it for, oh, three seconds or so. A few friends of mine have one and they have done nothing but rave about how great they are. I keep a point and shoot camera in my purse that has video capability, but the clips are limited to one minute in length. I could haul our regular video camera around to catch the every day moments that occur when we are out and about but, no.
When deciding what to customize the Flip with, the choice was pretty easy. I have a photo of my three kids' feet that is blown up and hangs on our living room wall. It's one of the all-time favorite photos I've taken and I was pretty sure it would turn out well. The day the Flip arrived I excitedly opened the box to see how it looked.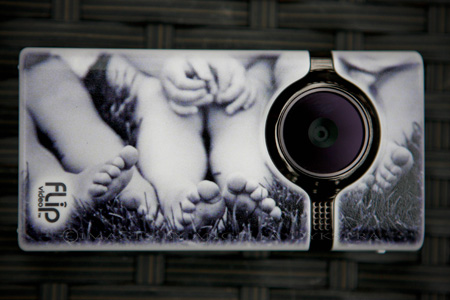 Isn't it FANTASTIC? I sure think so.
I couldn't wait to try it out and knew that Emily's ballet class would be a great place to use it. My husband Matthew has only seen photos of her class but hasn't come with us to see her dance yet. We have to sit behind the glass, which means that instead of hearing the piano you get to hear the conversations of those around me. I thought about dubbing some music over it but I (am lazy, and) found that Graham's captured conversation struck me as funny. It doesn't start until about a minute in, but then he does not. stop. talking.
Dancing Queen from Angella on Vimeo.
Welcome to my life.
I've also posted a few other daily moments over on Flickr. There's the one of my kids dancing after dinner,  as well as the one of them singing and dancing to Kung Fu Panda while riding in the minivan. Never a dull moment around these parts.
I was asked to give an honest review of the Flip and, well, I love it. It's easy to use and is so compact that it fits in one of the small inner pockets of my purse. One other thing that I love about it is that the video is easy for me to deal with. Let me explain further.
We have an HD video camera that takes great video, is easy to use, etc. As I said above, it may be small but not quite "carry around every day" small. The other problem I have with is is that while I can easily download a video to my Macbook, in order to use it in iMovie I have to first run it through another program to make the file compatible. It's a huge time waster. The videos I take on the Flip are easily downloaded onto my laptop and import into iMovie with no special conversion needed. Easy peasy. Maybe I'll finally be inspired to learn how to be creative with iMovie. Maybe.
As is usually the case, when a company gives a product away for someone to review, they give their readers a chance to win one of their own. Let the people rejoice!
The people from Mom Central (Who hooked me up with my pretty little Flip) are giving away three Flip MinoHD cameras. You need a "Flip Password" and they gave me one to pass along:
Dutch
Here are the promotion details:
You can enter 2 ways:  By signing up for their Mom Product Testing Panel at www.momcentral.com/canada and entering the promo code when you sign up.
OR
You can enter by sending an email to momcentral@live.com with the promo code in the subject.
You can see full contest details at www.momcentral.com and the promotion ends October 19, 2009.  The giveaway is open to Canadians only and you must be 18 or older to enter.
So, what are you waiting for? Go enter!
I will occasionally receive emails from people asking if I would be interested in receiving a book they are promoting in the hope that I will read it and review it. Unless the book is written or connected to somebody I know, I will often turn it down. I lead a busy life and can hardly find time to read for myself; I can't justify spending that much time reading for others.
However. When I was approached about reading "The Curse Of The Good Girl" I was intrigued. The information sent in that first email was enough to pique my interest:
In THE CURSE OF THE GOOD GIRL: Raising Authentic Girls with Courage and Confidence, Rachel Simmons exposes the myth of the Good Girl, a myth that diminishes girls' power and potential by teaching them to accept only an artificial and very limited version of selfhood.
Unerringly polite, nice, modest, and selfless, the Good Girl paradigm is so narrowly defined it's unachievable. With self-esteem tied to perfection, girls are unable to know, express and manage a complete range of feelings. The need to be "perfect" leaves girls uncomfortable with feedback and failure, making it difficult to recover from even minor setbacks; a conflict with a peer or a mistake in the classroom is often enough to unleash paralyzing self-criticism. Deprived of the permission to articulate their needs, strengths, and goals, girls are confined by a psychological glass ceiling that can extend into adulthood, stunting the growth of vital skills and habits essential to personal and professional success.
Drawing from the stories of the women and girls who attend her workshops, Simmons traces the impact of Good Girl pressure on girls' development and provides strategies to teach girls to not only to listen to their inner voice, but also to empower and embrace their real selves. She shows how true freedom of the self is permission to take the healthy risks that can result in great triumphs, and to accept and grow from the mistakes we make along the way.
Rachel Simmons's THE CURSE OF THE GOOD GIRL is a call to arms from a new front in female empowerment, providing tangible lessons and effective strategies to help Good Girls become Real Girls.
As a girl myself, as well as being the mother to a little girl, this seemed like a book that could be helpful to the both of us. I have to admit that I much prefer to read autobiographies or fiction, but The Curse Of The Good Girl managed to keep me engaged. It also gave me some great tools to share with my daughter. The Three Rules of Friendship are something that I wish my Mom had taught me when I was a little girl.
The last chapter struck me especially. "From Perfect Mothers To Real Mothers" is something that almost every mother I know struggles with, and what has drawn so many moms to blog about their experience. We keep hearing about being a "good mother" but the standard is so high that we feel like we're failing every day.
The Curse of the Good Girl is a book that I will keep handy not only for myself, but as a reference as I navigate the teenage years with my daughter.
I few weeks ago I posted a review of Estée Lauder's Advanced Night Repair. In addition to being sent a great skin care product to review, I was invited to attend a party while in Chicago for BlogHer. Given new product and being sent to an event? SIGN ME UP.
I arrived in Chicago on the Wednesday night, checked into my room, then went out in search of somewhere to buy souvenirs for my kids. I ended up failing in my endeavor, but enough friends ended up donating their Mr./Mrs. Potato Heads and Spiderman books from our BlogHer bags that I was regarded as a hero upon return home.
After that failed shopping excursion I walked into my room to see a lovely Estée Lauder gift bag sitting on the table in my room.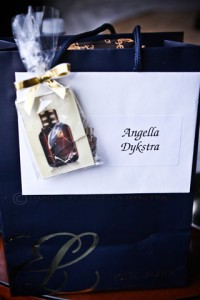 The coolest thing about the contents of the bag is that there were things that I will ACTUALLY USE. I don't shop at department stores that often, but it seems that whenever I get the "Free gift with purchase" I end up with a bunch of makeup palettes that don't go with my skin color and the lipstick is a bright shade of cherry red.
Not only were there a few makeup bags included, the eyeshadow compact includes colors that suit me and the lipstick doesn't make me look like a call girl. Even better, the lipstick is actually quite similar to my regular color, but with a little extra depth and shimmer to it. I am honestly wearing it as I type this (Hot Kiss)(RAWR).
As for the event itself, I wasn't quite sure what to expect. The shuttle to get there left later than planned but being the eternal optimist I am, I took the opportunity to chat with the other lovely ladies who were attending with me. Upon arrival at Macy's we were given a "stress reliever" and a bottle of water.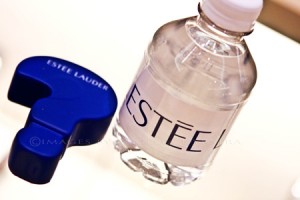 The humidity in Chicago was a bit much for this desert girl so I downed that baby right after I took this photo.
We got to hear about Estée Lauder herself and how she was (an actual person, and) a pioneer in the world of beauty products. It was neat to hear how persistent she was trying to make her way in a world that didn't encourage start ups.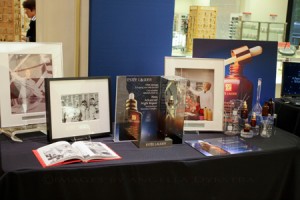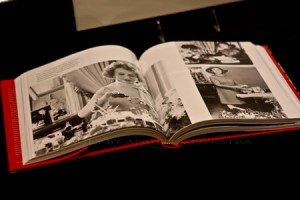 As I said above, I was not really sure what to expect at this event. I was hoping for food, seeing as it was over the supper time hour (my American friends mock me to no end when I say "supper time") but there was no food to be found. I didn't get too upset about it because I figured that maybe the party planners thought that bloggers were like celebrities. In some ways, they may be, but there is one major difference: Bloggers like to eat.
Lack of food wasn't going to keep me from making the most of the night. I sat with one of the girls at the makeup counter and she was all sorts of friendly and knowledgeable. She wanted to wash my face and start my makeup from scratch (Which, well, NO) but when I said I was happy with my look she tested makeup on my hand and bombarded me with samples.
Everyone associated with Estée Lauder was energetic, informed and extremely professional. If I didn't have another event to hustle off to, I would have visited with more of the lovely ladies working at their counters.
I was also excited to visit with old friends and make some new ones.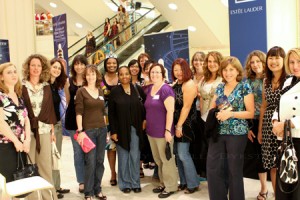 They couldn't have picked a better group of ladies to spend the evening with. Thanks, Estée Lauder.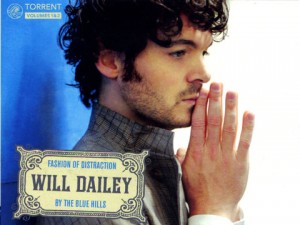 A few weeks ago Will Dailey was featured on the Daily Grommet and I gave away his CD. His lovely PR rep (Hi Zoe!) contacted me and asked if I wanted to interview him, so I threw it out to my readers.
Here's the email I sent Will, followed by his answers:
***
Hi Will!
I first need to confess that I hadn't listened to your music until I heard of you through The Daily Gromment. You make the style of music that I have been loving lately, so I was instantly smitten (With the music; I'm married. Yo.)
I was flattered when I was asked if I wanted to interview you because, well, I've never done this before. While I love to listen to music, I cannot play a single instrument to save my life. I have a decent singing voice, but nothing worth recording (Unless it gets caught in the crossfire while taking videos of my kids).
Seeing as I am a newbie to interviewing musicians, I did what any blogger would do: I threw it out to my readers via Twitter and my website and asked them what I should ask you. The questions they fired back at me are varied and mostly questions that I would love to know the answers to.
Here goes!
***
Who would you collaborate with if you could choose anyone – dead or alive?
Michael Jackson.
Who are you inspired by?
Inspiration is unavoidable. I find myself inspired by horrible people just as much as inspirational people. Though each elicits a different response.
My musical influence is hard to pin down and is always evolving but right now it is revolving around Stevie Nicks. It could be Fugazi by next week.
What's currently playing on your ipod?
I just got a copy of these lost Nick Drake covers by Elton John that I can't get away from.
How did you get started out in this industry?
One gig at time really. I have to attribute a lot of the "industry" initiation to Billy Zero formally of XM radio. He got a copy of my first album, Goodbyeredbullet and started spinning it like crazy and talking it up on blogs and emails. Calls started pouring in after that.
Do you write all of your own lyrics/music. Is so, do you find the process to be easy or difficult for you?
I do. Depending on what kind of day, week or month I am having I always find it in different ways. There have been times of struggle but they always yield new paths.
Also long as I enjoy the end result it will always be enjoyable, cathartic and an adventure into things I can't explain by typing.
What instruments do you play?
Guitar is my main instrument but I also play Ukulele, piano, mandolin and I breath through a harmonica sometimes.
What other interests do you pursue in life other than music? Do I like video games (That was from a reader's kids)?
Ha. Lots of things. I like rock climbing and non fiction the most right now. As far as video games go I am addicted to word games so if they are online I am screwed. But I tend to enjoy myself most making music or being outside. If I got a video game system I would not have a life because I have a hard time not finishing what I start. My friends with video games hate it when I come over.
Boxers, briefs or commando?
Depends on the occasion.
What is your favorite thing about social media? Do you twitter? Or is social media just something you have to do?
I go back and forth on it. I find it fascinating and sometimes fun. Someday I indulge with joy and sometimes I think we are destroying true communication. You have to think there was a whole generation of people that cursed the telephone as the end of culture. Then I start thinking that there was a whole generation of people who cursed the written word and printing.
Why this album? What's the story you want to leave behind?
Torrent is a way for me to fit my natural writing schedule into my recording schedule. Putting out an album every two years isn't fun or satisfying to me.
With Torrent I get to release these EPs every 3-4 months and keep it flowing.
I get to put songs together in concise packages: Fashion of Distraction features Roger McGuinn and a lot of my Byrds influence & By The Blue Hills features a lot o my friends from Boston and songs influence by my home town. And fans get to come along for the ride. I have no end date for my Torrent series yet.
***
Thanks Will! If you guys want to stalk Will on Twitter, you can find him here.
Zoe is also sending me one of Will's CD's, but since I already have his album on my iPod I'm giving it away. All you have to do is leave a comment if you want to enter. You want this album. Trust me.
***
I used Random.org and number 14 came up. Congratulations, Joyce! I'll email you.
This is a compensated review from BlogHer and Estée Lauder Advanced Night Repair
If you are a close friend of mine, you have heard me complain about one of my pet peeves of growing older. No, it's not the shape of my body. I am actually more fit now than I have ever been. Please don't hate me; I have an addictive personality and exercise is my newest addiction.
I hate seeing the effects of age on my skin.
My husband comes from a family who has dark, olive, oily skin. Those natural oils make it so that the women in his family (And the men) have nary a wrinkle to be seen.
I, however, have Irish blood. My skin is fair, and pretty awesome in general, but the wrinkles? THEY HAVE SHOWN THEMSELVES.
When the call was thrown out for bloggers who might be interested in trying out Estée Lauder's Advanced Night Repair I responded with an excited, "Pick me! Pick me!" I need all of the help I can get. We all know how costly a skin care regime can be, so the chance to try one out in exchange for a review was right up my alley. Before I knew it a little blue box had arrived in my mail box.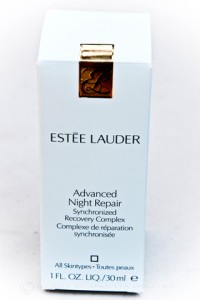 I opened it up and saw an interesting little brown bottle.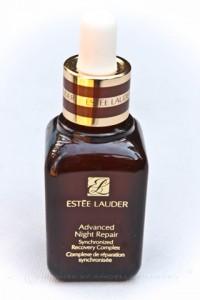 I unscrewed the lid and saw something that I had not seen before. A dropper.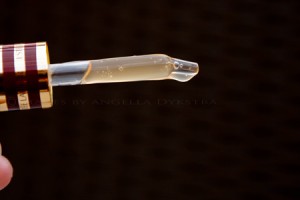 Now, maybe you are a makeup/skin care aficionado, but I am a drugstore shopper. I have veered away from the high-end brands because I am cheap frugal. I saw the dropper and had some questions.
How was I to get this potion to work for me? Squirt it up my nose? Add it to a drink? So that maybe it could do its magic from the inside out? I consulted the instruction booklet.
I was supposed use the dropper to squirt the lotion onto my skin. It really was that simple. Just like me.
I have to say that I gave the lotion a run for its money. Summer has finally ARRIVED. After a long (and cold) winter I have been spending every spare moment outside. While we all know that sun is damaging to the skin, I can't stay away from it. Eight months of winter just about did me in. I'm like that fly on A Bug's Life that is zooming towards the zapper. When he buddy tells him to stay away from the light he responds, "I…can't…help…it…"
I didn't take any "before" photos (Because I am awesome like that) but I did take an "after" photo. This is me, unedited (Except for a bump in the contrast).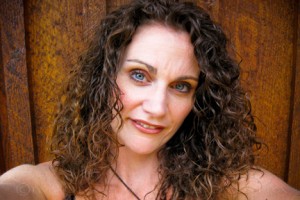 My skin may not be dewy and flawless, but I am THIRTY-FOUR YEARS OLD. All things considered, I think that a good skin care regimen makes all of the difference. Seriously.
I am not the only one who had the pleasure of turning back time. Here is the round-up of others who got to try the Estée Lauder Advanced Night Repair:
If you like free stuff then do I have a deal for you.

Estée Lauder invites you to AMERICAS NIGHT TO REPAIR. On Thursday, July 23, 5-9PM, visit any Estée Lauder Counter and get a free 10-day supply of New Advanced Night Repair, no purchase necessary (while supplies last)(It retails for $47.50)
For more information on the Advanced Night Repair, you can check out their website.
I will be at the giveaway in Chicago during BlogHer. Will I see you there? If you can't make it to Chicago, are you going to hit up your local Estee Lauder? IT'S FREE, PEOPLE.
Please tell me that you're going to attend somewhere.
A few months back I had the sweetest email from one of my readers named Ruth.  She asked if she could possibly send me and the kids some books that her husband Royden had both written and illustrated.
Free books?  For my kids who LOVE TO READ and BE READ TO?
Um…YEAH.
Before I knew it this bundle of books had arrived.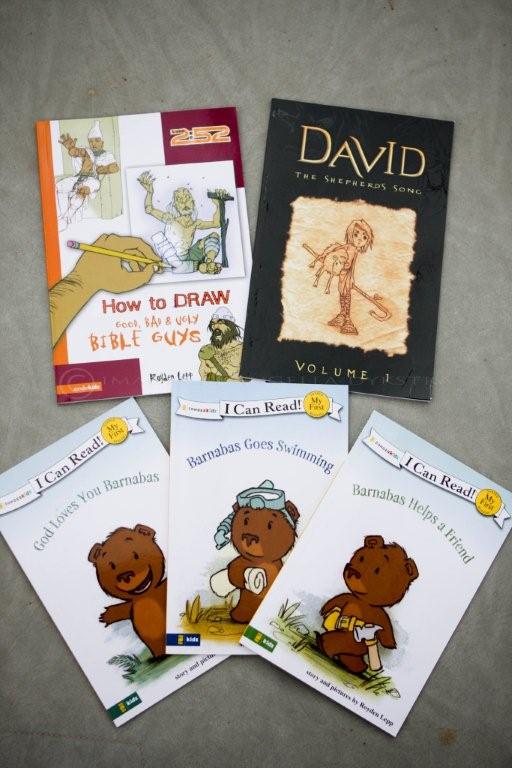 The kids love, love, LOVE the Barnabas books.  The drawing books are a bit advanced for the pre/barely-in-school set, but my eighteen-year-old brother has been having a heyday with them.
If drawing is your forte, Royden has a blog dedicated to the art.  You can find it HERE.
You can find their regular site HERE.
If you want to purchase any of the above books, they can be found on Amazon, Chapters, and Borders.
Ruth and Royden are sweet people who share the same faith as I do.  They sent these books out of the kindness of their hearts.  They don't have kids of their own. YET. They wanted feedback from someone who already had kids.  I HAVE THREE.  I (more than) qualified.
I want to give them a huge wish of thanks for sharing their work with me and my family.
If you think that these books are something that your family would enjoy, make sure you tell them that I sent you.
« Previous page