Date: Thursday November 24, 2011
Posted in: reviews
When the lovely folks over at the Clever Girls Collective contacted me about trying out a new product that helps to preserve memories in a digital format, I thought it sounded pretty interesting. I read the description to Matthew (I always run ideas by him before taking on something extra) and he thought it would be a good fit, too. I signed on, got my account activated and…have been dealing with sick kids on a non-stop rotation for the past MONTH.
Luckily for me, the kids are now healthy (knock on wood) and the LiveOn folks had a later launch date than expected.
They have been so great about communicating with those of us who got early access and even set up a conference call to walk through the site. I couldn't make the call (work, schmerk) and wondered if I'd even know where to begin and if I'd be overwhelmed. WHAT WOULD I DOOOOOO?
The great thing is, right on the home page, before you even log in, there's a video explaining what LiveOn is about and how to use it. Then once you log in, each different section has a separate tutorial video that shows you how to use it. Which is actually pretty awesome, because it would be hard to say to you guys, "Go check it out! It's AWESOME! But you'll have no idea how to use it."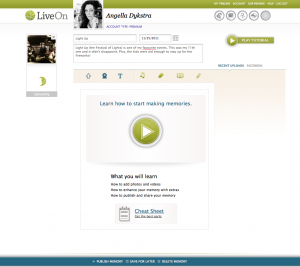 (Click on photo to embiggen.)
So what is LiveOn, exactly? Think of LiveOn.com as a free repository for your memories — photographic, written, audio, video. You choose to add content in the form of "memories" on a timeline. You upload photos or video, type or record your thoughts about that memory, add music if you so desire, then save it. I think of it as kind of a mini digital scrapbook for each memory I want to keep.
Another feature of LiveOn is "Answer A Life Question". Click on the icon in the top corner and you are taken to a page of life questions. You can answer the questions with text or a video recording. Connect your webcam and LiveOn records you answering the questions. The idea behind it being that your kids, grandkids, etc. will all be able to get to know you better, even after you're no longer around.
One thing I wondered about is…what happens when I die? Do all of my memories get deleted? Does all of the time I spent documenting these memories go to waste? Nope.
The LiveOn promise:
We promise to keep your memories forever. Not 100 years, not 500 years, but forever. We have an intricate backup system of servers that will act as your personal vault, ensuring your stories are here for all future generations to enjoy. This promise of memory preservation is the number one focus of our company and we will do everything in our power to keep this promise to you.
So, your photos, memories, and life questions are safe. PHEW. But what if you have the opposite problem…instead of  a hard drive full of pictures you have boxes of old photographs. There's LiveOn Rewind! They will digitize your photos and albums FOR YOU. Plus, they gave me this discount code (cgc54) to share with you guys so that you can save 20% on this service.
Also! For those of you concerned about privacy, only those people who you add as "tribe members" can see your timeline. You can link your memories to Facebook if you want, but FB does not have access to anything. You have to choose what you want to share and nothing is shared unless you purposely do so. To share the Timelines, Time Capsules, and Life Questions with family members just click the "share button" or invite people to join your tribe.
Will I continue to use LiveOn, past the time I'm sponsored to do so? Yes. I think it's really neat, actually. I need to spend more time on there learning the ropes, and figuring out what and how I want to save my memories, but I can see this as something really great for future generations. Pictures and videos and blog posts are great for documenting everything, but this takes it up a notch. It's kind of awesome.
Thank you to LiveOn for this sponsored opportunity to blog about storing and sharing my most important memories with those closest to me. Please visit LiveOn to learn more about sharing and preserving your most important memories. I was selected for this sponsorship by Clever Girls Collective. All opinions expressed here are my own.