Date: Tuesday November 16, 2010
Posted in: giveaways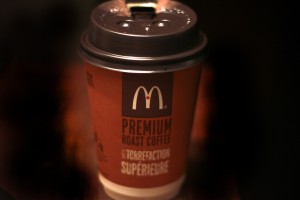 A few weeks ago, I ventured to Toronto to (speak at, and) attend Blissdom Canada in Toronto. I'm still glowing a little from the time spent with a few good friends, staying up until the wee hours of the morning and talking. Hotel lobby chairs are the new therapist chairs. Or something.
The conference itself was pretty amazing and the topics covered were more than relevant to a writer/blogger here in Canada. The opening keynote was by Scott Stratten of UnMarketing and one of the stories he told was how he used to always get his coffee at a chain that rhymes with Jim Morton's and their coffee was never consistent. Ever. EVER. Then, one day, he had no cash. And they didn't take debit (HOW IS THAT POSSIBLE?). So, he switched to McDonald's coffee and it was GOOD. And CONSISTENT. And they take DEBIT CARDS.
I drive by a McDonald's six days a week (five on my way to work, one on my way to ballet) and the thought of getting good coffee, consistently, appealed to me.
Then, days later, McDonald's themselves contacted me to see if I wanted to tell people that they were offering free (FREE) coffee from November 15th to 28th. Free! Coffee! Also, it's free!
Which is all fine and good but I could simply tell you this via Twitter and Facebook.
Except!
They also have given me a $50 McDonald's gift card to give out to my readers. FIFTY BONES, friends. It's only open to the Canadians but we get left out of 98% of online giveaways, so don't hold it against us.
All you need to do is leave a comment to enter. Why don't you tell me how you take your coffee? I take mine with half and half and Splenda. Mmm…
(Don't forget – even if you don't win this gift card, you only need to go to your local McDonald's to cash in on the free coffee. That's what I did yesterday in order to grab a coffee and take that there above photo. Have I mentioned that it's FREE?)
What are you waiting for? I have a fifty dollar (FIFTY DOLLAR) McDonald's gift card to give whomever of you that Random.org chooses. (You don't even have to buy coffee with it. Just sayin'…)
Ready? Set? GO.
(I'll leave comments open until Friday, November 19th at…I'm not sure, exactly. But I'll close them when I do the draw.)
***Edited to say that I left this open until Saturday because I've come down with the flu. Yay, winter! /sarcasm
The winner is…
Mrs. Wilson! I'll be emailing you for your address. Thanks for playing, everyone!
51 Comments