This is a compensated review from BlogHer and Estée Lauder Advanced Night Repair
If you are a close friend of mine, you have heard me complain about one of my pet peeves of growing older. No, it's not the shape of my body. I am actually more fit now than I have ever been. Please don't hate me; I have an addictive personality and exercise is my newest addiction.
I hate seeing the effects of age on my skin.
My husband comes from a family who has dark, olive, oily skin. Those natural oils make it so that the women in his family (And the men) have nary a wrinkle to be seen.
I, however, have Irish blood. My skin is fair, and pretty awesome in general, but the wrinkles? THEY HAVE SHOWN THEMSELVES.
When the call was thrown out for bloggers who might be interested in trying out Estée Lauder's Advanced Night Repair I responded with an excited, "Pick me! Pick me!" I need all of the help I can get. We all know how costly a skin care regime can be, so the chance to try one out in exchange for a review was right up my alley. Before I knew it a little blue box had arrived in my mail box.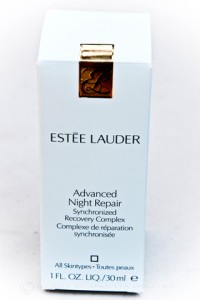 I opened it up and saw an interesting little brown bottle.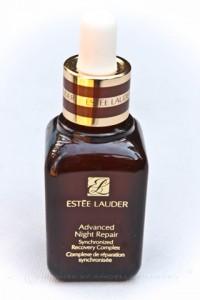 I unscrewed the lid and saw something that I had not seen before. A dropper.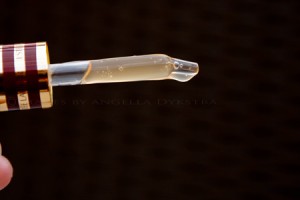 Now, maybe you are a makeup/skin care aficionado, but I am a drugstore shopper. I have veered away from the high-end brands because I am cheap frugal. I saw the dropper and had some questions.
How was I to get this potion to work for me? Squirt it up my nose? Add it to a drink? So that maybe it could do its magic from the inside out? I consulted the instruction booklet.
I was supposed use the dropper to squirt the lotion onto my skin. It really was that simple. Just like me.
I have to say that I gave the lotion a run for its money. Summer has finally ARRIVED. After a long (and cold) winter I have been spending every spare moment outside. While we all know that sun is damaging to the skin, I can't stay away from it. Eight months of winter just about did me in. I'm like that fly on A Bug's Life that is zooming towards the zapper. When he buddy tells him to stay away from the light he responds, "I…can't…help…it…"
I didn't take any "before" photos (Because I am awesome like that) but I did take an "after" photo. This is me, unedited (Except for a bump in the contrast).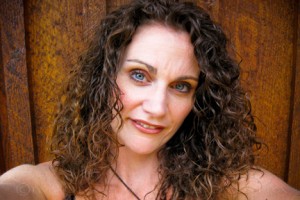 My skin may not be dewy and flawless, but I am THIRTY-FOUR YEARS OLD. All things considered, I think that a good skin care regimen makes all of the difference. Seriously.
I am not the only one who had the pleasure of turning back time. Here is the round-up of others who got to try the Estée Lauder Advanced Night Repair:
If you like free stuff then do I have a deal for you.

Estée Lauder invites you to AMERICAS NIGHT TO REPAIR. On Thursday, July 23, 5-9PM, visit any Estée Lauder Counter and get a free 10-day supply of New Advanced Night Repair, no purchase necessary (while supplies last)(It retails for $47.50)
For more information on the Advanced Night Repair, you can check out their website.
I will be at the giveaway in Chicago during BlogHer. Will I see you there? If you can't make it to Chicago, are you going to hit up your local Estee Lauder? IT'S FREE, PEOPLE.
Please tell me that you're going to attend somewhere.
10 Comments