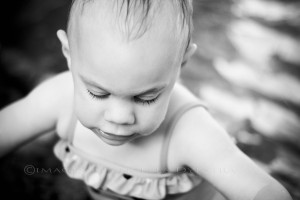 I feel really lucky to have been chosen as one of the ambassadors for LiveOn. For someone like me, who takes hundreds upon hundreds of photos, and who tries to document our life via THE BLAWG, it's a great tool to help me capture what I can for my kids (And grandkids!)(One day!)(Holy crap!) so that they can see what our life was like here. And now.
One other great service that they offer is LiveOn Rewind. You can send in your old videotapes and they will convert them into digital (DVD) format. The plan was for me to send in our old videos, get them back, and tell you how awesome they are. Sadly, 2012 is trying to eat my face, and the box I had packaged for shipping sat in my minivan for weeks. WEEKS. Because I have dealt with more bodily fluids than any (non-medical) person should have to.
The good news is that I finally made my way to UPS last week. The box that included Hi-8 (So advanced, ten years ago!) video tapes were sent off to LiveOn Rewind. The video of our wedding, which the kids haven't seen. Videos of Graham's first year. So much more. I cannot WAIT to get them back and watch them with the kids. They are going to FREAK OUT. In a good way.
This just in: I have a coupon code for 30% off on LiveOn Rewind to share with you lovelies. cgc61
Thank you to LiveOn for sponsoring this blog post. Please visit LiveOn to learn more about sharing and preserving your most important memories. I was selected for this sponsorship by Clever Girls Collective. Although story ideas were provided, all thoughts and opinions are my own.
If you know me at all, then you know that I like to take photos. I rely a lot on my handy-dandy iPhone for the little moments, but I pull out the big camera when there's a birthday party, or when we go on walks, or when there are dance recitals or Christmas plays, or any other big events. My camera is out on Christmas morning, too. I don't take photos of EVERY present being opened, but I try to catch a few delighted expressions. Or, not-so-delighted expressions. This one of my daughter from Christmas 2009 still cracks me up.
I love that I take a few moments here over the holidays, catch candid and posed photos, and my kids will be able to look at them ten years from now and remember how much fun we had. We even do that now – look through photos from last year and beyond and they love seeing the smaller versions of themselves and the places we've gone/people we've seen/presents we've opened.
As for my childhood, I have one photo album that covers birth to high school. Yes, really. I think I took more photos with my old point-and-shoot film camera in high school than there are in my entire album. Heck, I scan shoot more photos of my kids in ONE DAY than are in my album. Photos weren't really my Mom's thing, I guess, and it's OK. I have enough in there to see myself at different stages of my life.
It just spurns me on to keep taking photos of my kids, and not just when they're polished and smiling nicely. Pajama-clad grumpy moments are just as important to capture, in my humble opinion. And I will store them and save them and keep them safe for, well, forever.
***
Don't forget that you have a unique coupon code for 30% off on LiveOn Rewind: HOLIDAYREWIND

Thank you to LiveOn for sponsoring this blog post. Please LiveOn to learn more about sharing and preserving your most important memories. I was selected for this sponsorship by Clever Girls Collective. Although story ideas were provided, all thoughts and opinions are my own.
The lovely Ernesta Rossi (She is a PR superstar)(Not like the "I thought you might be interested in posting this" people), asked me if I would be interested in reviewing a Canadian photo company. They had approached her, she immediately thought of me, and a connection was made.
I had never heard of Elephoto before, but it's the time of year where I purchase many photo products, so I was game. Plus! They're Canadian! They offered to give me a photo book, but I didn't have time to go through 400 photos and make a photo book in time to give you guys the sweet discount code they gave me, so I opted to make one of their photo calendars. Last year was the first year I made a photo calendar and every month, as I turn the page, I get all misty. It's like going into a one-year-old time capsule and seeing where the kids were a year ago.
The website was a breeze to work through and the colour and layout options were pretty vast. I sat down with a cup of coffee, clickity-click-click-clicked and, BAM. Submitted my order.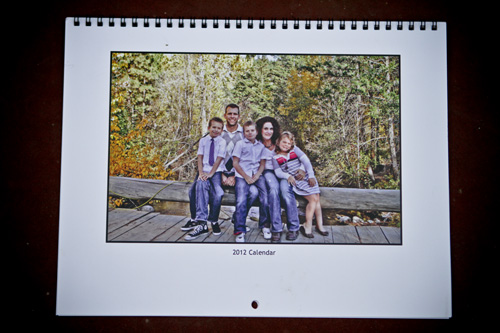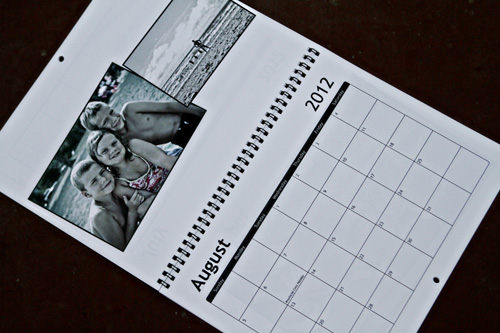 (I went for the simple white version, because I'm all about a clean background (see my website), but they have a lot of great backgrounds. And photo books and greeting cards and posters, oh my!)
They've been reported to have the fastest shipping in Canada. If you order as late as Dec 18th 11:59pm with basic standard shipping, your order will still arrive in time for Christmas to most parts of Canada.
They gave me a custom reader discount code! It's for 15%! The reader discount code is valid until January 31, 2012. These codes are entered at checkout, easy peasy. I know, because they worked for me.
The discount code: BLITZ15
Happy shopping, friends!
I was contacted by Moo.com to see if I wanted to sample their Christmas cards and review them. DO I? Of course I do. We send out Christmas cards and letters every year. Getting the cards for free is awesome, and I've purchased from Moo before and it was awesome, so this was something easy to say yes to.
I haven't received my cards yet, because the USPS and Canada Post are like oil and water, but here is the photo I used on the front: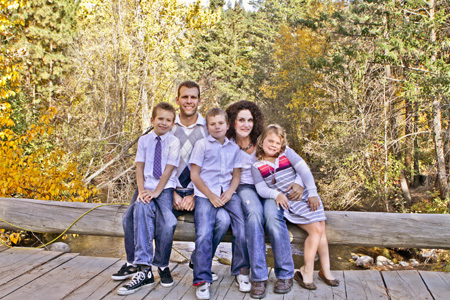 Here is the photo that I used on the back:

I would wait to show you the actual card, but the USPS is telling me that I won't receive my cards until mid-December. Moo.com has asked me to give away 3 sets of 25 cards to you guys (Three sets! Three chances to win!) and waiting until mid-December is a little late for ordering.
So here we are. My cards are en route and probably in Fargo or some other random US city, but I can give three (THREE) of you a set of 25 Christmas cards.
Here are a few of their card styles: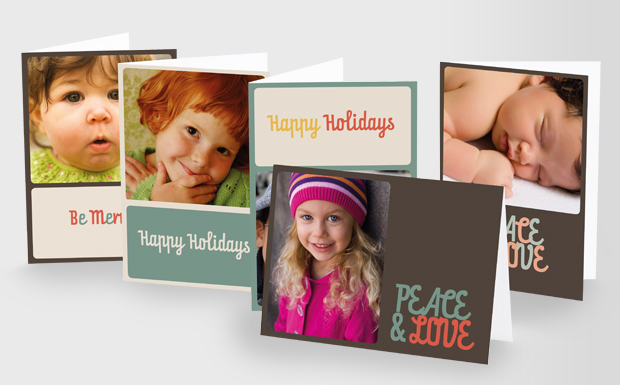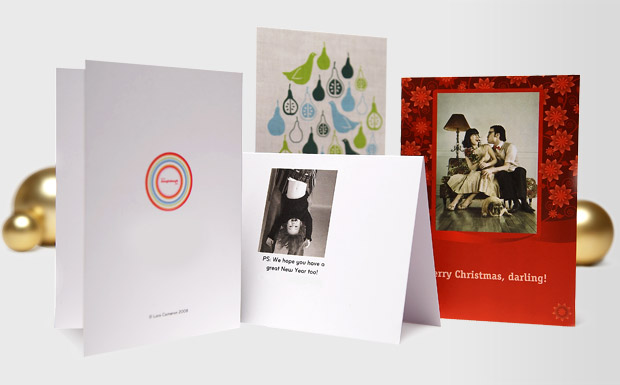 To enter, just leave a comment telling me if you send Christmas (or holiday) cards or not.
I'll draw the winners this coming Friday, December 2nd, 2011.
***
We have our three winners!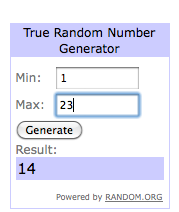 Carla!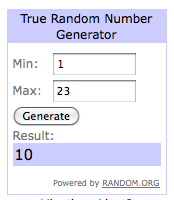 Charmedone17!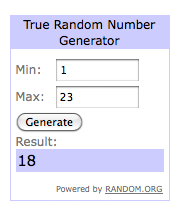 Mrs Wilson!
Congrats!

When the lovely folks over at the Clever Girls Collective contacted me about trying out a new product that helps to preserve memories in a digital format, I thought it sounded pretty interesting. I read the description to Matthew (I always run ideas by him before taking on something extra) and he thought it would be a good fit, too. I signed on, got my account activated and…have been dealing with sick kids on a non-stop rotation for the past MONTH.
Luckily for me, the kids are now healthy (knock on wood) and the LiveOn folks had a later launch date than expected.
They have been so great about communicating with those of us who got early access and even set up a conference call to walk through the site. I couldn't make the call (work, schmerk) and wondered if I'd even know where to begin and if I'd be overwhelmed. WHAT WOULD I DOOOOOO?
The great thing is, right on the home page, before you even log in, there's a video explaining what LiveOn is about and how to use it. Then once you log in, each different section has a separate tutorial video that shows you how to use it. Which is actually pretty awesome, because it would be hard to say to you guys, "Go check it out! It's AWESOME! But you'll have no idea how to use it."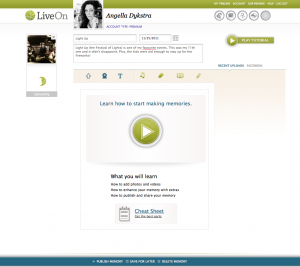 (Click on photo to embiggen.)
So what is LiveOn, exactly? Think of LiveOn.com as a free repository for your memories — photographic, written, audio, video. You choose to add content in the form of "memories" on a timeline. You upload photos or video, type or record your thoughts about that memory, add music if you so desire, then save it. I think of it as kind of a mini digital scrapbook for each memory I want to keep.
Another feature of LiveOn is "Answer A Life Question". Click on the icon in the top corner and you are taken to a page of life questions. You can answer the questions with text or a video recording. Connect your webcam and LiveOn records you answering the questions. The idea behind it being that your kids, grandkids, etc. will all be able to get to know you better, even after you're no longer around.
One thing I wondered about is…what happens when I die? Do all of my memories get deleted? Does all of the time I spent documenting these memories go to waste? Nope.
The LiveOn promise:
We promise to keep your memories forever. Not 100 years, not 500 years, but forever. We have an intricate backup system of servers that will act as your personal vault, ensuring your stories are here for all future generations to enjoy. This promise of memory preservation is the number one focus of our company and we will do everything in our power to keep this promise to you.
So, your photos, memories, and life questions are safe. PHEW. But what if you have the opposite problem…instead of  a hard drive full of pictures you have boxes of old photographs. There's LiveOn Rewind! They will digitize your photos and albums FOR YOU. Plus, they gave me this discount code (cgc54) to share with you guys so that you can save 20% on this service.
Also! For those of you concerned about privacy, only those people who you add as "tribe members" can see your timeline. You can link your memories to Facebook if you want, but FB does not have access to anything. You have to choose what you want to share and nothing is shared unless you purposely do so. To share the Timelines, Time Capsules, and Life Questions with family members just click the "share button" or invite people to join your tribe.
Will I continue to use LiveOn, past the time I'm sponsored to do so? Yes. I think it's really neat, actually. I need to spend more time on there learning the ropes, and figuring out what and how I want to save my memories, but I can see this as something really great for future generations. Pictures and videos and blog posts are great for documenting everything, but this takes it up a notch. It's kind of awesome.
Thank you to LiveOn for this sponsored opportunity to blog about storing and sharing my most important memories with those closest to me. Please visit LiveOn to learn more about sharing and preserving your most important memories. I was selected for this sponsorship by Clever Girls Collective. All opinions expressed here are my own.
Way back in June (June!) the very sweet Megan at Tiny Prints contacted me to see if they could hook me up with business cards. My stash was completely out and BlogHer was coming up and so I wrote back and said, "OF COURSE!!" Or, 'That would be pleasing to me. What might I do in return?" I've used Tiny Prints for years (Christmas cards, mostly) and looked forward to checking out their business cards.
I placed my order, got email notification that it had been shipped and then it fell off of my radar. There was beach time and work and that trip to Cannon Beach, etc. The week before I left for San Diego, I realized that I had yet to receive my cards. I checked the tracking on the package and the last stop had been in Vancouver…three weeks earlier. I contacted FedEx and after two days of searching, they told me that the package was lost.
I contacted Megan and asked her if there was any way to get a box of cards sent to San Diego. She dealt with it immediately and was so sweet about it and told me that they were scheduled to arrive on the Friday, but I may get them on the Thursday. Hooray!
I checked my tracking online/the hotel front desk on Thursday and…nothing. Same thing on Friday. And then on Saturday, the status said that it was on the truck in San Diego! At 6:30 a.m.! I went down to the UPS store mid-morning to see if FedEx had dropped off my package. He informed me that they had done their delivery for the say and weren't expected to come back and that there was no package for me. He looked up my tracking number for me and pointed out that FedEx had scheduled my package to be delivered on Monday. They day after I flew home.
(FedEx isn't my favorite.)
Megan at Tiny Prints asked if she could still send me some cards and they arrived within the week. Third time's the charm!
They'll come in handy a couple of weeks from now when I'm attending/speaking at Blissdom Canada in Toronto. If I see you there and you want one, hit me up. I kind of love them.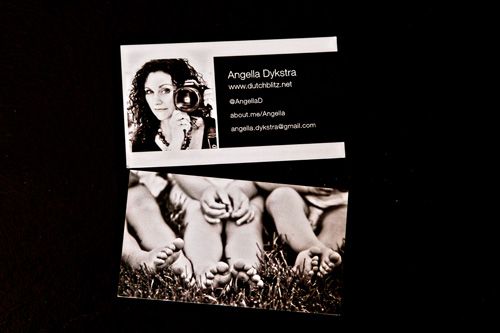 They were super easy to make and if you're in need of some cards, here's the link. They also have great Christmas cards, Holiday cards, and Invitations.
Thanks to Tiny Prints for getting me these cards despite FedEx's attempt to keep them from me.
Way back in June, a lovely lady from Uncommon contacted me to see if I'd like a (Free!) customized iPhone case before I traveled to BlogHer. Added bonus: I could give a custom case away to one of my lucky readers.
Yes, and yes.
The problem is, the US Postal Service hates Canada. No, really. Whenever friends from the States send me something in the mail it takes weeks and weeks (and weeks and weeks). The week before I left for BlogHer I realized that my case wasn't here and I contacted my Uncommon contact (who shares my Maiden name, coincidentally) and she said that she would try to track down my package.
I got an email yesterday about the deadline for the giveaway and was sad that I couldn't participate. But then! I checked the mail on my way home (we have community lock boxes) and my case had arrived!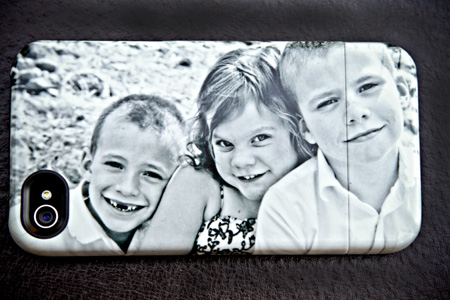 Isn't it great?
It's way sturdier that my previous case and I can't wait to show it to all of my fellow iPhone users at my office and in my life. (My husband wants one now.)
The fact that it arrived (Yay, USPS! A month later!) means that I also get to give away a custom case to one of you lovelies. And, if you live close to me (or are someone I send mail to), I have a bunch of 20% off coupons to hand out.
So, about the free case giveaway. Leave me a comment and tell me whether you will use your own photo/design or if you'll use one of theirs and I'll pick a lucky winner on…August 22nd.
Leave a comment! Get a free case!
DO IT.
***
So! I ran Random.org and got the number…2.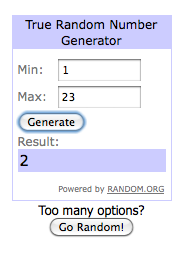 It's all yours, Tanis!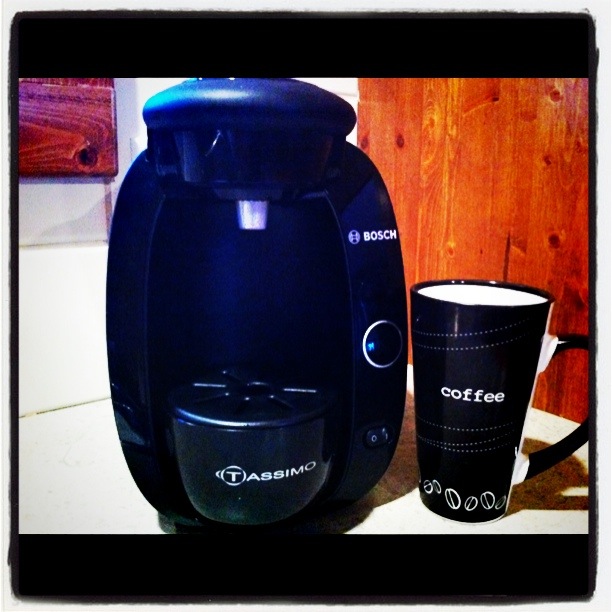 At the beginning of December I was contacted by Tassimo to see if I would be interested in reviewing their Tassimo T20 coffee brewer AND giving one to one of my readers. I said yes, for a few different reasons:
1. I love coffee and drink one every morning, either on my drive to work or at my kitchen table on my days off.
2. I'd heard a lot of buzz about the Tassimo T20 through Twitter and other giveaways and had been hoping to get one for Christmas.
3. I love it when I get to give away cool things to my readers.
The Tassimo T20 arrived at Purolator on Christmas Eve – just in time to keep me caffeinated for all the festivities of the holidays (including hosting Christmas dinner). It was so easy to use! The coffee tastes great! And the only clean up consists of throwing the T Disc in the garbage! My husband and extended family were pretty impressed as well.
A big thank you to Tassimo for spoiling me with the T20 and for letting me give one away to one of you lucky readers. They can only ship to U.S. addresses for this giveaway and so I asked if Canadians were allowed to enter if they could provide a U.S. shipping address. They can!
So! If you have a U.S. shipping address and want a chance to enter this contest, simply leave a comment below and tell me how you take your coffee. (I take mine with Splenda and Half and Half. It balances out. Or something.)
We're leaving for Disneyland on Wednesday, so I'll leave the comments open until we return on January 12th and then use Random.org to choose the winner. Good luck!
Disclaimer: I received the T20 brewer to review at no cost and all opinions are my own.
***
We have a winner! #35!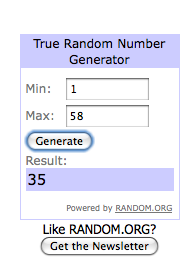 I'll email you, Chris, to get your mailing address.

When I was approached to see if I was interested in receiving a (Customized!) Flip MinoHD I had to sit back and ponder it for, oh, three seconds or so. A few friends of mine have one and they have done nothing but rave about how great they are. I keep a point and shoot camera in my purse that has video capability, but the clips are limited to one minute in length. I could haul our regular video camera around to catch the every day moments that occur when we are out and about but, no.
When deciding what to customize the Flip with, the choice was pretty easy. I have a photo of my three kids' feet that is blown up and hangs on our living room wall. It's one of the all-time favorite photos I've taken and I was pretty sure it would turn out well. The day the Flip arrived I excitedly opened the box to see how it looked.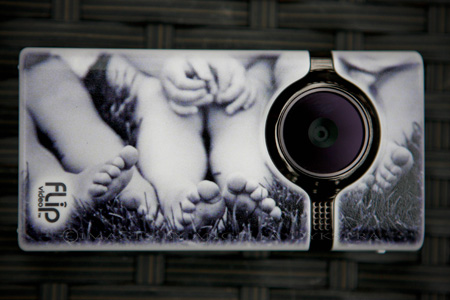 Isn't it FANTASTIC? I sure think so.
I couldn't wait to try it out and knew that Emily's ballet class would be a great place to use it. My husband Matthew has only seen photos of her class but hasn't come with us to see her dance yet. We have to sit behind the glass, which means that instead of hearing the piano you get to hear the conversations of those around me. I thought about dubbing some music over it but I (am lazy, and) found that Graham's captured conversation struck me as funny. It doesn't start until about a minute in, but then he does not. stop. talking.
Dancing Queen from Angella on Vimeo.
Welcome to my life.
I've also posted a few other daily moments over on Flickr. There's the one of my kids dancing after dinner,  as well as the one of them singing and dancing to Kung Fu Panda while riding in the minivan. Never a dull moment around these parts.
I was asked to give an honest review of the Flip and, well, I love it. It's easy to use and is so compact that it fits in one of the small inner pockets of my purse. One other thing that I love about it is that the video is easy for me to deal with. Let me explain further.
We have an HD video camera that takes great video, is easy to use, etc. As I said above, it may be small but not quite "carry around every day" small. The other problem I have with is is that while I can easily download a video to my Macbook, in order to use it in iMovie I have to first run it through another program to make the file compatible. It's a huge time waster. The videos I take on the Flip are easily downloaded onto my laptop and import into iMovie with no special conversion needed. Easy peasy. Maybe I'll finally be inspired to learn how to be creative with iMovie. Maybe.
As is usually the case, when a company gives a product away for someone to review, they give their readers a chance to win one of their own. Let the people rejoice!
The people from Mom Central (Who hooked me up with my pretty little Flip) are giving away three Flip MinoHD cameras. You need a "Flip Password" and they gave me one to pass along:
Dutch
Here are the promotion details:
You can enter 2 ways:  By signing up for their Mom Product Testing Panel at www.momcentral.com/canada and entering the promo code when you sign up.
OR
You can enter by sending an email to momcentral@live.com with the promo code in the subject.
You can see full contest details at www.momcentral.com and the promotion ends October 19, 2009.  The giveaway is open to Canadians only and you must be 18 or older to enter.
So, what are you waiting for? Go enter!
I will occasionally receive emails from people asking if I would be interested in receiving a book they are promoting in the hope that I will read it and review it. Unless the book is written or connected to somebody I know, I will often turn it down. I lead a busy life and can hardly find time to read for myself; I can't justify spending that much time reading for others.
However. When I was approached about reading "The Curse Of The Good Girl" I was intrigued. The information sent in that first email was enough to pique my interest:
In THE CURSE OF THE GOOD GIRL: Raising Authentic Girls with Courage and Confidence, Rachel Simmons exposes the myth of the Good Girl, a myth that diminishes girls' power and potential by teaching them to accept only an artificial and very limited version of selfhood.
Unerringly polite, nice, modest, and selfless, the Good Girl paradigm is so narrowly defined it's unachievable. With self-esteem tied to perfection, girls are unable to know, express and manage a complete range of feelings. The need to be "perfect" leaves girls uncomfortable with feedback and failure, making it difficult to recover from even minor setbacks; a conflict with a peer or a mistake in the classroom is often enough to unleash paralyzing self-criticism. Deprived of the permission to articulate their needs, strengths, and goals, girls are confined by a psychological glass ceiling that can extend into adulthood, stunting the growth of vital skills and habits essential to personal and professional success.
Drawing from the stories of the women and girls who attend her workshops, Simmons traces the impact of Good Girl pressure on girls' development and provides strategies to teach girls to not only to listen to their inner voice, but also to empower and embrace their real selves. She shows how true freedom of the self is permission to take the healthy risks that can result in great triumphs, and to accept and grow from the mistakes we make along the way.
Rachel Simmons's THE CURSE OF THE GOOD GIRL is a call to arms from a new front in female empowerment, providing tangible lessons and effective strategies to help Good Girls become Real Girls.
As a girl myself, as well as being the mother to a little girl, this seemed like a book that could be helpful to the both of us. I have to admit that I much prefer to read autobiographies or fiction, but The Curse Of The Good Girl managed to keep me engaged. It also gave me some great tools to share with my daughter. The Three Rules of Friendship are something that I wish my Mom had taught me when I was a little girl.
The last chapter struck me especially. "From Perfect Mothers To Real Mothers" is something that almost every mother I know struggles with, and what has drawn so many moms to blog about their experience. We keep hearing about being a "good mother" but the standard is so high that we feel like we're failing every day.
The Curse of the Good Girl is a book that I will keep handy not only for myself, but as a reference as I navigate the teenage years with my daughter.
Next page »