When I was approached to see if I was interested in receiving a (Customized!) Flip MinoHD I had to sit back and ponder it for, oh, three seconds or so. A few friends of mine have one and they have done nothing but rave about how great they are. I keep a point and shoot camera in my purse that has video capability, but the clips are limited to one minute in length. I could haul our regular video camera around to catch the every day moments that occur when we are out and about but, no.
When deciding what to customize the Flip with, the choice was pretty easy. I have a photo of my three kids' feet that is blown up and hangs on our living room wall. It's one of the all-time favorite photos I've taken and I was pretty sure it would turn out well. The day the Flip arrived I excitedly opened the box to see how it looked.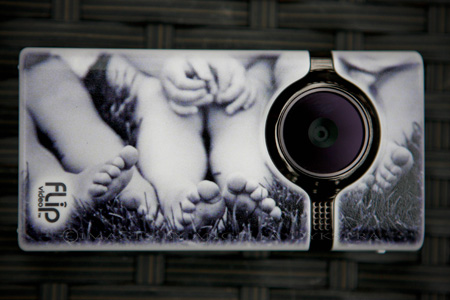 Isn't it FANTASTIC? I sure think so.
I couldn't wait to try it out and knew that Emily's ballet class would be a great place to use it. My husband Matthew has only seen photos of her class but hasn't come with us to see her dance yet. We have to sit behind the glass, which means that instead of hearing the piano you get to hear the conversations of those around me. I thought about dubbing some music over it but I (am lazy, and) found that Graham's captured conversation struck me as funny. It doesn't start until about a minute in, but then he does not. stop. talking.
Dancing Queen from Angella on Vimeo.
Welcome to my life.
I've also posted a few other daily moments over on Flickr. There's the one of my kids dancing after dinner,  as well as the one of them singing and dancing to Kung Fu Panda while riding in the minivan. Never a dull moment around these parts.
I was asked to give an honest review of the Flip and, well, I love it. It's easy to use and is so compact that it fits in one of the small inner pockets of my purse. One other thing that I love about it is that the video is easy for me to deal with. Let me explain further.
We have an HD video camera that takes great video, is easy to use, etc. As I said above, it may be small but not quite "carry around every day" small. The other problem I have with is is that while I can easily download a video to my Macbook, in order to use it in iMovie I have to first run it through another program to make the file compatible. It's a huge time waster. The videos I take on the Flip are easily downloaded onto my laptop and import into iMovie with no special conversion needed. Easy peasy. Maybe I'll finally be inspired to learn how to be creative with iMovie. Maybe.
As is usually the case, when a company gives a product away for someone to review, they give their readers a chance to win one of their own. Let the people rejoice!
The people from Mom Central (Who hooked me up with my pretty little Flip) are giving away three Flip MinoHD cameras. You need a "Flip Password" and they gave me one to pass along:
Dutch
Here are the promotion details:
You can enter 2 ways:  By signing up for their Mom Product Testing Panel at www.momcentral.com/canada and entering the promo code when you sign up.
OR
You can enter by sending an email to momcentral@live.com with the promo code in the subject.
You can see full contest details at www.momcentral.com and the promotion ends October 19, 2009.  The giveaway is open to Canadians only and you must be 18 or older to enter.
So, what are you waiting for? Go enter!