I will occasionally receive emails from people asking if I would be interested in receiving a book they are promoting in the hope that I will read it and review it. Unless the book is written or connected to somebody I know, I will often turn it down. I lead a busy life and can hardly find time to read for myself; I can't justify spending that much time reading for others.
However. When I was approached about reading "The Curse Of The Good Girl" I was intrigued. The information sent in that first email was enough to pique my interest:
In THE CURSE OF THE GOOD GIRL: Raising Authentic Girls with Courage and Confidence, Rachel Simmons exposes the myth of the Good Girl, a myth that diminishes girls' power and potential by teaching them to accept only an artificial and very limited version of selfhood.
Unerringly polite, nice, modest, and selfless, the Good Girl paradigm is so narrowly defined it's unachievable. With self-esteem tied to perfection, girls are unable to know, express and manage a complete range of feelings. The need to be "perfect" leaves girls uncomfortable with feedback and failure, making it difficult to recover from even minor setbacks; a conflict with a peer or a mistake in the classroom is often enough to unleash paralyzing self-criticism. Deprived of the permission to articulate their needs, strengths, and goals, girls are confined by a psychological glass ceiling that can extend into adulthood, stunting the growth of vital skills and habits essential to personal and professional success.
Drawing from the stories of the women and girls who attend her workshops, Simmons traces the impact of Good Girl pressure on girls' development and provides strategies to teach girls to not only to listen to their inner voice, but also to empower and embrace their real selves. She shows how true freedom of the self is permission to take the healthy risks that can result in great triumphs, and to accept and grow from the mistakes we make along the way.
Rachel Simmons's THE CURSE OF THE GOOD GIRL is a call to arms from a new front in female empowerment, providing tangible lessons and effective strategies to help Good Girls become Real Girls.
As a girl myself, as well as being the mother to a little girl, this seemed like a book that could be helpful to the both of us. I have to admit that I much prefer to read autobiographies or fiction, but The Curse Of The Good Girl managed to keep me engaged. It also gave me some great tools to share with my daughter. The Three Rules of Friendship are something that I wish my Mom had taught me when I was a little girl.
The last chapter struck me especially. "From Perfect Mothers To Real Mothers" is something that almost every mother I know struggles with, and what has drawn so many moms to blog about their experience. We keep hearing about being a "good mother" but the standard is so high that we feel like we're failing every day.
The Curse of the Good Girl is a book that I will keep handy not only for myself, but as a reference as I navigate the teenage years with my daughter.
A few months back I had the sweetest email from one of my readers named Ruth.  She asked if she could possibly send me and the kids some books that her husband Royden had both written and illustrated.
Free books?  For my kids who LOVE TO READ and BE READ TO?
Um…YEAH.
Before I knew it this bundle of books had arrived.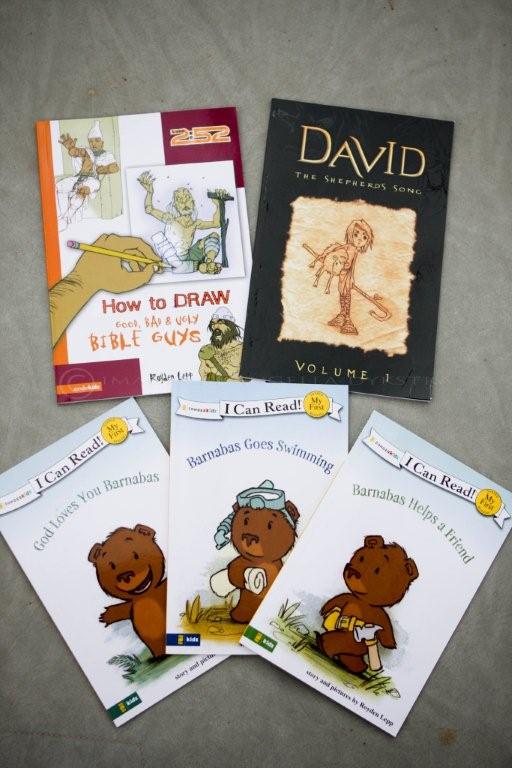 The kids love, love, LOVE the Barnabas books.  The drawing books are a bit advanced for the pre/barely-in-school set, but my eighteen-year-old brother has been having a heyday with them.
If drawing is your forte, Royden has a blog dedicated to the art.  You can find it HERE.
You can find their regular site HERE.
If you want to purchase any of the above books, they can be found on Amazon, Chapters, and Borders.
Ruth and Royden are sweet people who share the same faith as I do.  They sent these books out of the kindness of their hearts.  They don't have kids of their own. YET. They wanted feedback from someone who already had kids.  I HAVE THREE.  I (more than) qualified.
I want to give them a huge wish of thanks for sharing their work with me and my family.
If you think that these books are something that your family would enjoy, make sure you tell them that I sent you.