Date: Friday December 16, 2011
Posted in: reviews
If you know me at all, then you know that I like to take photos. I rely a lot on my handy-dandy iPhone for the little moments, but I pull out the big camera when there's a birthday party, or when we go on walks, or when there are dance recitals or Christmas plays, or any other big events. My camera is out on Christmas morning, too. I don't take photos of EVERY present being opened, but I try to catch a few delighted expressions. Or, not-so-delighted expressions. This one of my daughter from Christmas 2009 still cracks me up.
I love that I take a few moments here over the holidays, catch candid and posed photos, and my kids will be able to look at them ten years from now and remember how much fun we had. We even do that now – look through photos from last year and beyond and they love seeing the smaller versions of themselves and the places we've gone/people we've seen/presents we've opened.
As for my childhood, I have one photo album that covers birth to high school. Yes, really. I think I took more photos with my old point-and-shoot film camera in high school than there are in my entire album. Heck, I scan shoot more photos of my kids in ONE DAY than are in my album. Photos weren't really my Mom's thing, I guess, and it's OK. I have enough in there to see myself at different stages of my life.
It just spurns me on to keep taking photos of my kids, and not just when they're polished and smiling nicely. Pajama-clad grumpy moments are just as important to capture, in my humble opinion. And I will store them and save them and keep them safe for, well, forever.
***
Don't forget that you have a unique coupon code for 30% off on LiveOn Rewind: HOLIDAYREWIND

Thank you to LiveOn for sponsoring this blog post. Please LiveOn to learn more about sharing and preserving your most important memories. I was selected for this sponsorship by Clever Girls Collective. Although story ideas were provided, all thoughts and opinions are my own.
Date: Friday December 9, 2011
Posted in: reviews
The lovely Ernesta Rossi (She is a PR superstar)(Not like the "I thought you might be interested in posting this" people), asked me if I would be interested in reviewing a Canadian photo company. They had approached her, she immediately thought of me, and a connection was made.
I had never heard of Elephoto before, but it's the time of year where I purchase many photo products, so I was game. Plus! They're Canadian! They offered to give me a photo book, but I didn't have time to go through 400 photos and make a photo book in time to give you guys the sweet discount code they gave me, so I opted to make one of their photo calendars. Last year was the first year I made a photo calendar and every month, as I turn the page, I get all misty. It's like going into a one-year-old time capsule and seeing where the kids were a year ago.
The website was a breeze to work through and the colour and layout options were pretty vast. I sat down with a cup of coffee, clickity-click-click-clicked and, BAM. Submitted my order.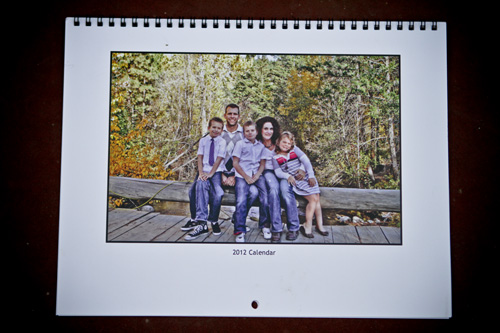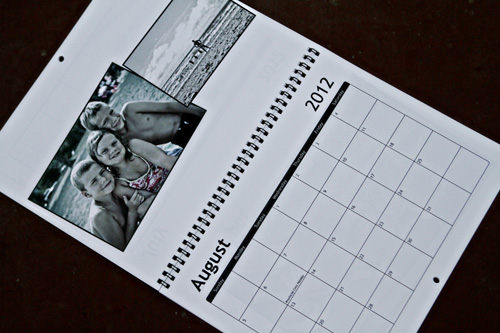 (I went for the simple white version, because I'm all about a clean background (see my website), but they have a lot of great backgrounds. And photo books and greeting cards and posters, oh my!)
They've been reported to have the fastest shipping in Canada. If you order as late as Dec 18th 11:59pm with basic standard shipping, your order will still arrive in time for Christmas to most parts of Canada.
They gave me a custom reader discount code! It's for 15%! The reader discount code is valid until January 31, 2012. These codes are entered at checkout, easy peasy. I know, because they worked for me.
The discount code: BLITZ15
Happy shopping, friends!